Looking to spice up your next event? Why not hire the first name in belly dance?
BellyDance.org now offers belly dancing for your next party, corporate event, wedding shower, etc!
We offer programs from a single dancer to comprehensive programs including a speaker, dance class and of course belly dancers.
We only hire out top-notch dancers for your event.
Only the best!
Check out some of our talent - click on the image below to launch a QuickTime movie!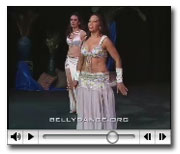 20 Minute program with 1 Belly Dancer
starting at $275
40 Minute program with 2 Belly Dancers
starting at $475
60 Minute program with 2 Belly Dancers & Speaker
starting at $700
100 Minute program with 2 Belly Dancers & Dance Class
starting at $925
Specialized programs
Fee on request

Suzy Evans - founder of IAMED and a leading expert in belly dance - is available for film consultations, research, speaking engagements and seminars.
Corporate Offices in Los Angeles, California
Phone: (818) 635-5419
Office Hours 10 AM to 8 PM PST
Payment is due in full upon booking. No refunds.
*Additional charge for travel if event is more than 50 miles from our offices.