Product Description
The Art of Belly Dance with Paulina DVD Set
How to Belly Dance for Beginners
Complete Belly Dance Lessons plus Workouts
Have Fun, Get Fit and Learn to Belly Dance!
The Complete Set of 3 Videos that teach you how to Belly Dance!
Each video is approximately 95 minutes in length and features:
– 50+ minutes of unique belly dance instruction
– 25+ minute workout which includes a complete warm-up and cool-down
– 2 beautiful performances by professional belly dancers, including Paulina!
Belly Dance Step by Step Instruction
The DVD versions also contain bonus materials:
– The History of Belly Dance
– Instructional Tips for Belly Dancers
– The Story of The International Academy of Middle Eastern Dance (IAMED)
The MOST Comprehensive Instructional Belly Dance Videos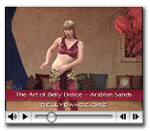 ---
Produced by Suzy Evans ~ IAMED
Producers of the Best How to Belly Dance Videos in the World!