Product Description
Hip-notic Belly Dance with Kaya DVD
This unique video program takes advantage of Kaya's intense teaching style which focuses on learning how to make a mind-body connection, and empowering you to develop your own style while elevating your performance.  Kaya teaches a variety of her captivating techniques and movements, as well as how to pay attention to the important, but often neglected details of our art form.
This DVD includes a variety of technical skills, layers, and exercises that help you perfect your presentation:
* Head Rolls and Flips * Fire in the Eyes * A to Z Chest Movements * Belly Rolls * Flutters
* Abdominal Sprinkler * Snaking * Oblique Isolations * Blending Hip and Chest Movements
* Inward Pelvic Circles and Variations * Dynamic Changes
* Unique Ways to Travel Across the Stage
* Emotionally Connecting with Your Audience
* Then put it all together to help you develop your own method of self-expression through belly dance.
BONUS FEATURE:  A mesmerizing fire performance by Kaya!
Running time 129 minutes.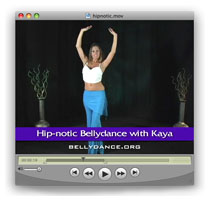 Save