Product Description
The Essential Egyptian Belly Dance DVD Set
If you love Egyptian styling, then this set is for you! Get three outstanding videos from some of the most popular Egyptian Style Belly Dancers in the country!
TAMRA-HENNA
With the intention of learning the art of raqs sharqi (belly dance) from its source, Tamra-henna moved to Egypt to study musical interpretation, technique, and the Arabic language and culture. She trained extensively with Nadia Hamdi, Raqia Hassan, Mona El Said, and Ibrahim Akef while pursuing a performing career in Cairo. She appeared in Egypt's most prestigious venues, most notably the Nile Hilton, where she was offered an extended contract. While in Egypt, she opened for some of the most well known artists in the Middle East today such as Amar Diab and Dina. She accepted contracts throughout the Arab world and has performed, traveled, and lived in: Lebanon, Morocco, the United Arab Emirates, Oman, Bahrain, Yemen, and Cyprus.
Arabic Rhythms with Tamra-henna
Over two hours of outstanding instruction!
Rhythm ~ the foundation of Middle Eastern music. As well as express the emotion of the melody and lyrics, a belly dancer must be on the beat and respond to the many rhythm changes that add depth and texture to Egyptian music. Tamra-henna and Amir Sofi on tabla teach you everything you need to understand Egyptian rhythms so your Raks Sharqi performances will beautifully interpret the subtle complexities of this wonderful music!
Tamra-henna and Amir begin by explaining and demonstrating the elements of Egyptian rhythms ~ Dum – tec – ka! ~ and the structure and timing of these popular Egyptian rhythms:
The 4 Beat Rhythms:
~ Maqsoum
~ Masmoudi Sagheer (Beledi)
~ Wahda
The 2 Beat Rhythms:
~ Ayub
~ Malfoof
And so you don't miss a beat, diagrams that illustrate each rhythm appear on the screen while Amir plays!
Because it's not enough to recognize the rhythms, Tamra-henna discusses the kinds of music in which each rhythm is found, and how you can use them in your performance.
She then teaches several combinations that reflect the structure of each rhythm. The combinations will help you develop a deeper understanding of Egyptian rhythms. Plus, they're fun new moves to use in your dancing!
Finally, you are treated to a beautiful costumed performance by Tamra-henna!
Running Time: 136 minutes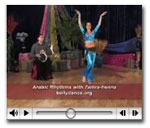 ---
ZAHRA ZUHAIR
Zuhair is a master teacher, performer, and choreographer who is world renowned for her knowledge, authenticity, and dedication to the art of Middle Eastern dance. Raised in oriental dance from a young age, Zahra is known for her musicality, flawless technique, and elegant style. She has trained and influenced many of today's international, bellydance stars, and has performed and taught workshops on 5 continents, including the Ahlan Wa Sahlan Festival in Cairo Egypt.
Magnificent Moves with Zahra Zuhair
Egyptian Technique, Combinations, and Styling
What makes Raqs Sharki – Egyptian Style Belly Dance – so special? Find out in this fun and informative video starring one of the most popular Egyptian Style instructors and performers in the United States, Zahra Zuhair!
Raised in Oriental Dance since a young girl, Zahra is known for her musicality, flawless technique, and elegant style. Since the late 1970's, she has traveled extensively to Egypt and studied the regional dances of the Middle East and North Africa. Now Zahra shares some of her unique skills and knowledge with you by teaching Egyptian Style technique and combinations that you can incorporate into any belly dance performance.
In this program, Zahra teaches the following, with plenty of variations to give you more options:
* Posture & Poses
* Camels
* Figure Eights
* Hip Circles
* "Soheir Zaki" Hip Downs
* Arabesques
* "The Jewel"
* Belly Accents
* … and much more!
Plus all new exciting combinations!
In addition to all the invaluable instruction, you can also enjoy Zahra's wonderful belly dancing with an exclusive performance that includes some of the combinations taught in this video!
Running Time: 105 minutes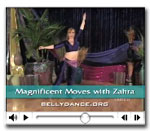 ---
AVA FLEMING
Performer, choreographer and instructor of Middle Eastern Dance, with over 10 years of dance and performance experience. Ava was winner of the Belly Dancer of the Universe competition in 2004, and is also the founder and director of her dazzling new troupe Black Opal Dance Company. Ava Fleming brings a truly unique and modern approach to Raqs Sharki. She is an elegant example of today's classic modern belly dancer. With her extensive knowledge and experience in international dance styles, she has had the opportunity to perform with: Boom Boom Bollywood, Punjabi by Nature, Domba, as a guest artist, and in several Ballroom performances.
Dynamic Combinations – Traveling in Style
It was once said of a great belly dancer that she could dance in the space of a single tile. But with today's big stages and exciting music, sometimes you just have to get off the tile and move!
In this video, Ava Fleming teaches you how to Travel in Style! Starting with grand entrances to immediately grab your audience, she shows you how to move from Point A to Point B using exciting and fun traveling combinations. Ava breaks down and demonstrates each movement, completely explaining the technique and transitions, including weight changes and correct posture with an emphasis on safe movement. She also includes variations and tips on styling.
Combinations include:
* Super Dancer with Spice
* Funky Figure Eights
* Stomach Pops
* Quick Change
* Funky Hip Twist
* Sassy Hips
* 3/4 Camel Combination
* And Much More!
The video concludes with a spectacular performance by Ava!
Running Time: 115 minutes