Product Description
The Art of Belly Dance ~ Arabian Sands Beginner Belly Dance DVD
Belly Dance Instruction and Workout
Have Fun, Get Fit and Learn How to Belly Dance!
Learn Belly Dancing from the Experts! The MOST Comprehensive Videos on Belly Dance.
This 97 minute program includes:
Learn Belly Dance with Paulina
Paulina demonstrates each movement, then completely breaks it down for you. Using the technique taught in The Art of Belly Dance Instructional Video Series, you will build a strong foundation for your dance. The standard belly dance movements presented in this edition are:
Horizontal Figure 8
Twisting Shimmy
Hip Drop
Upper Body Slides & Circles
Beautiful Arms
Hand Ripples
and more!
Belly Dance Workout
Jindra runs you through a Complete Belly Dance Workout with an Emphasis on Stretching, plus a Full Warm Up and Cool Down.
Performances
Featuring two beautiful belly dance performances by Paulina and Aleya
Yes, you too can learn how to belly dance like Shakira!
BEST VALUE: Get the entire "Art of Belly Dance for Beginners" series for one low price! click here for more information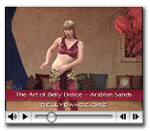 ---
Produced by Suzy Evans ~ IAMED
Producers of the Best Beginner Belly Dance Videos in the World!