Product Description
Smooth as Silk DVD – Learn to belly dance with a silk veil
Silk! It floats, it ripples, it moves like nothing else. A silk veil can be flowing and lyrical, or somber and mysterious. It can be playful, even percussive! In the hands of an artist, a silk veil is more than fabric; it comes alive and dances ~ and no one can make silk dance like Katia can!
On this DVD Katia shares her secrets for belly dancing with a large silk veil. Katia starts by demonstrating how to hold the veil to get the best effect. Then she'll show you how to let air and fabric do the work to make your silk veil Float, Flutter, Soar, Billow, and Swell. You'll learn to create beautiful Butterfly Wings and the secret of Aerial, Opposition and Dragging Pulses.
Katia fully breaks down the techniques to execute expert Veil Flips, including the Phoenix, the Orchid, the Funnel, the Geyser, and the Grecian Urn. You'll learn both horizontal and vertical Waves, including Surge, Swing, Sidewinder, the Cloud, In the Waves, Venus, and the Jazz Walk.
Your veil doesn't have to be spread out and flowing! Katia shows you how to have Twisted Fun with the Cyclone, Loop-de-loops, and Spirals! You'll learn how to let your veil go with style, using Discards such as Wave Walks, Outburst, Melt Down, and the Sky Scraper. Katia will also show you some Twisted Discards including the Whip, the Hoop, and the Crazy Eight!
This video program also includes a SMOOTH AS SILK performance by Katia and her veil!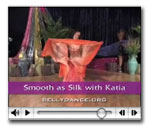 How to Belly Dance Video – All Region DVD Produced by IAMED