Product Description
Drum Solo Technique and Choreography DVD with Jillina 
Winner of Giza's Best How to Belly Dance Video Award
Whether you are a professional belly dancer or an enthusiastic beginner, this video will help you add fire to your drum solos. It is divided into easily identifiable sections, so you can use the DVD menu to concentrate on what you want to – be it technique or choreography. Featuring a live nightclub performance including the Drum Solo.
Drum Solo Philosophy:
Jillina shares her understanding of drum solos and tips on how to integrate a drum solo into your performance for a rousing finale.
Exercises:
Jillina demonstrates exercises designed to stretch and strengthen the muscles used in belly dancing. Use these exercises in your regular warm-up to add power, flexibility, and refinement to your dancing.
Technique:
Jillina breaks down the moves that are used in the Drum Solo Choreography, including identifying weight changes and which muscles are used for each move.
Choreography:
Jillina teaches the complete choreography by linking together combinations with repeated demonstrations and detailed breakdowns. She shows you how to add attitude to make it come alive.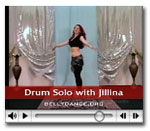 IAMED Award Winner: Best Modern Egyptian Dancer
"A dancer of unsurpassed skill. Mesmerizing and musical, her dance goes beyond beyond the borders of any country. She is not Middle Eastern, she is not American, she is a Dancer of the Universe."
– Amaya
BEST VALUE: Get two great Drum Solo videos for one low price! click here for more information
---
Produced by Suzy Evans ~ IAMED
Producers of the Best Belly Dance Videos in the World!