Product Description
Belly Dance!  The Show DVD
2 Hours of the Most Incredible Belly Dancing on the Planet!
From the sands of Arabia to the spotlights of Hollywood, from Cleopatra to Shakira, an enchanted journey through the timeless world of belly dancing and the traditional dances of the Middle East that inspired it.
Starring:
* Ansuya
* Sahra
* Laurel Victoria Gray
* The Silk Road Dance Company
* Dondi
* Paulina
* Midnight Mirage
* Eva Cernik
* Sohaila
* Amara
* Louchia
* Tribal Feat
* Ali Karim Ali
* The IAMED Dance Company
"Incredible performances on an amphitheater setting.  Lots of variety and interesting performances including cabaret style, tribal, Lebanese, Armenian and a special performance by Little Egypt. I watch this DVD every time I want to be inspired!"  Laura Melton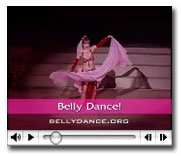 ---
Produced by Suzy Evans ~ IAMED
Producers of the Best Belly Dance Show Videos in the World!
Save